Create a Profitable Business With Site Build-It!
Turn Your Hobby Into a Steady Income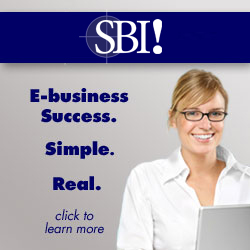 Do you want to earn an income by focusing on your hobby or area of interest? Do you think maybe YOU would be the best boss you've ever had?
Read on to learn about a program called Site Build-It! (SBI!) that empowers people to gain financial freedom and run their own successful online business. I've followed the program and it works for me, and I want to share how it can work for you too.
My Background...
My name is Liz Sommers and I'm the owner of Beggles Dog Treats and the webmaster here at this site. I want to share with you how SBI! has made an impact on my life and my business.
Just a few years ago and without any kind of business background, I had an idea of starting a dog treats business in order to earn extra income, work from home a few days a week, and spend more time with my husband. I wanted to see if I could be my own boss and handle running a small business on my own. (By the way... this progam is great for Moms who want to work from home).
I knew that selling dog treats online would be part of my business model, but the problem was that I had never even created a website, much less set up my own online store. Luckily (very luckily I now realize), a friend told me about SBI! and how the program helped him build a successful website with its easy-to-use tools, and how it also brought him lots of targeted traffic from the search engines.
All You Need to Do to Be Successful Is...
Follow the Program!
The more I read about the SBI! program, the more excited I was to start my own e-commerce site! I began to see that I couldn't lose by investing in a program like SBI! because...
All you need to bring to the table is your hobby or passion and the motivation to write great content, and SBI! does the rest.
After just a year, my dog treats e-commerce site is getting significant traffic every day. Not because of name or brand recognition, after all, my business is brand new, but because we offer so much more than just a store: we offer great information about dogs, allergies and treats.
With the SBI! program, you'll learn the secret of why 99% of online businesses fail and how you can get started along the road to success. What will the empowerment that comes with every SBI! purchase mean in your own life?

After reading about their proven methods of getting SBI sites to rank well at the search engines, I couldn't NOT give this program a try.
Get Started By Following SBI!'s Proven Methods
SBI has an e-commerce model that is very unique and proven to get great results at all the search engines: they emphasize a Content->Traffic->PreSell->Monetization model to building your website. Basically:
Content-> Write great content, and turn your knowledge into in-demand content at the search engines. (SBI! provides the motivation and know-how to get through this stage.)
Traffic-> Draw visitors from the search engines, resulting in free, targeted traffic.
Pre-Sell-> Over-delivering original content so that visitors both trust and like you.
Monetize-> Convert this stream of Pre-Sold traffic into income in various ways such as ads, affiliate relationships, or an online store. Whatever best fits your site.
With SBI's out-of-the-box tools, you can create a website without any programming or design experience. They offer ways to drop elements-such as social media plugins and blogging tools-onto your page with the click of a button. If you ARE an experienced web developer, you can do all of your own programming and design, and pick and choose which SBI! plugins you want to use.
You don't even need a product to sell on your website, you can still monetize with a purely informational site as long as it is a unique niche and well-written. Click here to learn about SBI!'s Google AdSense Program.
A Great Value For the Money...
SBI's yearly cost is $299, and there are no hidden fees or additional costs to the program. It's an investment in your future, and well-worth the money.
Take the SBI video tour (to the left)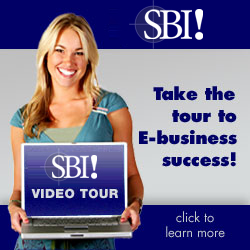 OR
View the Quick Tour Slideshow (recommended if you use dial-up)
You'll be glad you did!
Back to the top of the page